Hauling heavy equipment loads such as oversize construction and military equipment can be challenging and requires an equipment shipping company with experience in the heavy haul. In contrast to LTL and FTL freight shipping methods, heavy equipment transport services demand specific shipping solutions, such as oversize load permits and special heavy haul transport trailers. Additionally, given their massive size and weird shape, they cannot be shipped on all routes. Being aware of the numerous regulations and restrictions can save you time and money.
Documentation And Permits
Permits are required for oversized load shipments that exceed the legal dimensional restrictions for the states, counties, and townships they traverse during transit.
These dimensional thresholds fluctuate greatly from one state, county, and town to the next. Even the way permit prices are calculated — be it by the dimension of the load, tons of weight, weight increments, per mile, or a combination of these factors — change substantially from one state to another. Since you hope to make this process as smooth as possible, you need to plan the transport and understand your freight route. Before the process of obtaining the permits needed to move your freight begins, you'll want to figure out the best route possible for your shipment. This will help you ensure that you have all the necessary permits required for the shipping process.
Choose The Correct Hauler For Heavy Equipment Transport
Having an experienced heavy hauling partner will help immensely when picking the correct trailer. Matching your load with the correct shipping equipment guarantees safety and prevents unprecedented road occurrences. Matching the capacity of the trailer to the weight of the equipment you want to haul is key. An experienced partner will also help you with loading, securing, and offloading delivery.
When Does An Oversize Load Require Signs, Flags, And A Pilot Car?
Oversize Load or Wide Load banners and warning flags are required by the Federal Motor Carrier Safety Administration (FMCSA) for any commercial motor vehicle transporting an oversize and/or overweight load. Regulations on signage and warning flags vary by state. There are a lot of regulations for oversize loads and pilot cars escorting these oversize loads also must comply with many different requirements.
Safety Flags: Red orange or fluorescent flags on the far end corner of the vehicle.
Banners: Yellow banners placed at the front or back of the shipping equipment.
Pilot Car: An escort vehicle may be needed when shipping heavy loads in some states. Some states may require more than one pilot car.
Rates are important, but experience and safety are the main key factors determining which transportation company you should choose to ship your oversize load. Working with an established heavy haul company agent who will walk you through the process is the best thing you can do.
Contact Us (859) 824-4177 for more information or to get a quote!
—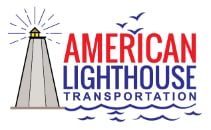 About American Lighthouse Transportation
American Lighthouse Transportation has been serving shippers with honesty and integrity throughout the United States, since 1998. You can depend on our experienced and knowledgeable management team, drivers, and support for all your shipping needs. We communicate effectively to make sure your shipment arrives safely, accurately, and on-time! You can count on us for personalized customer service, expert guidance, accurate anticipation of potential setbacks, and possible workarounds and solutions.
>> Learn More