There are many types of water tanks used to transport water. The most common ones are made up of steel, fiberglass, and polyethylene. These tanks are used for a variety of purposes.
Shipping a Tank
Since water tanks can be extremely heavy and are generally round in shape, it can be challenging to ship them safely. In most cases, it requires a lot of planning, especially if they are industrial water tanks. Permits are typically needed along with a large suitable truck and trailer.
Types of Water Tanks
Steel – Used mostly for agricultural water storage and industrial applications. They are durable, less costly, and are known for lasting a long time. This makes them one of the most popular with industries.Many of these tanks are used to hold potable water and water for fighting wildfires. The largest potable water tank in the U.S. is in Austin, Texas. It is 260 feet wide and 120 feet high and holds up to 34 million gallons of water. Tanks of this caliper are important in areas with a high risk of wildfires.
Polyethylene – There are other styles of tanks, such as polyethylene tanks. These are primarily used to store cold water. They are durable, lightweight, and easy to install for landscaping.
Fiberglass – Extremely common and often used for agricultural and industrial needs. They are very prevalent because they come in many sizes and can be customized to your specifications.
Other types of tank styles used are:
Carbon Welded
Pillow
Folding
Corrugated
Above-Ground
Below-Ground
Concrete
American Lighthouse Can Haul Your Water Tank
Below are some pictures and a link to an article about a Water Tank we hauled for a client…
> View Full Featured Work Post
Contact Us (859) 824-4177 for more information or to get a quote!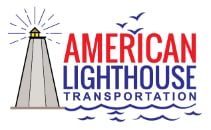 About American Lighthouse Transportation
American Lighthouse Transportation has been serving shippers with honesty and integrity throughout the United States, since 1998. You can depend on our experienced and knowledgeable management team, drivers, and support for all your shipping needs. We communicate effectively to make sure your shipment arrives safely, accurately, and on-time! You can count on us for personalized customer service, expert guidance, accurate anticipation of potential setbacks, and possible workarounds and solutions.