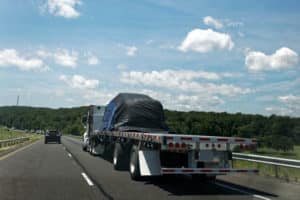 Flatbed freight shipping is an integral service to the transportation industry. Tons of products, machinery, and equipment are shipped in the U.S. on flatbed trucks every day. Flatbed freight transport offers the amplitude for the pop-up, surge, inter-modal, and dedicated services, regardless of industry. We will cover the basics of flatbed trailer trucking and why you should potentially choose a flatbed trailer for your next transportation request.
Flatbed Trailer Transport Explained
Flatbed shipping is transportation for cargo that may not require the enclosure of a dry van, cannot be loaded or unloaded from a dock, or does not fit within the dimensions of standard truck trailers. A flatbed's design allows for cranes and forklifts to load goods from all angles. Standard flatbeds are essentially box railers with no sides, doors, or food. The trailers are bare platforms that can be 20, 40, 48, or 53 feet in length. The loading and unloading process for step deck trailers is much safer for everybody involved.
Three Main Types of Flatbed Trailers
Standard Trailers – The standard flatbed trailer is extremely versatile, with 48 feet available to load materials or equipment. Some standard flatbeds are 53 feet long but are not as common. Flatbeds are ideally used when the shipping or receiving location does not have a dock accessible for loading and unloading, or when the product requires side or crane loading. You will find a multitude of flatbed trailer options available, each with its own merits.
Drop Deck Trailers – A step deck trailer, also known as a drop deck or lowboy trailer, is a commercial trailer designed to carry tall cargo that exceeds the legal height limit if transported on a traditional flatbed trailer. Their lower height allows forklifts to easily access cargo since they're closer to the ground. the single drop deck trailers are flatbeds with a bed that can be lowered to provide an extra 2 feet of clearance overhead.
Extended Trailers – Extendable flatbed trailers give you the ability to load from all sides when hauling extra-large freight. With a sliding mechanism, the flatbed can be extended to accommodate the length of freight, making your fleet versatile and capable of transporting a variety of loads. An extended trailer may be the best option if your heavy equipment load is too long to fit on a standard 40-foot trailer. You can increase the flatbed length to 80 feet. However, this will restrict available travel routes and will require additional permits to travel.
Flatbed Trailer Are Best For Oversize Machinery and Equipment
Flatbed trailer hauling is an industry that offers an enormous amount of flexibility for anyone looking to ship oversize machinery or equipment. With no requirement for a loading dock, flatbed trailer trucking is the choice method for many destinations that do not have adequate loading facilities. Every flatbed shipping is different. Flatbed trailers are only a base model from which other trailer types derive. Flatbed trucks are often used for carrying over-sized loads or products with unusual shapes. Even if your business doesn't require you to move what might be considered generic hauling materials like crates or steel, flatbeds are essential in the world of towing, agriculture, or dumping.
Contact Us (859) 824-4177 for more information or to get a quote!
—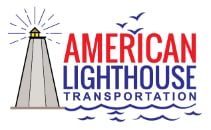 About American Lighthouse Transportation
American Lighthouse Transportation has been serving shippers with honesty and integrity throughout the United States, since 1998. You can depend on our experienced and knowledgeable management team, drivers, and support for all your shipping needs. We communicate effectively to make sure your shipment arrives safely, accurately, and on-time! You can count on us for personalized customer service, expert guidance, accurate anticipation of potential setbacks, and possible workarounds and solutions.
>> Learn More