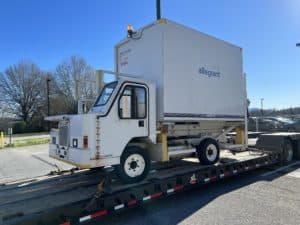 Flatbed rates seem to constantly fluctuate so it can be difficult to keep pace with all the factors that are weighed into rates and quotes. The core of these rates lie within fixed factors and the industries making up the flatbed world. Freight costs are an extremely important consideration for every businesses who needs to move products or equipment. A difference of even a few pennies per pound can mean the difference between staying on budget and scrapping a project—or losing a client. Let's break down these components to get to the bottom of what determines flatbed rates and quotes…
Fixed Factors
Giving good freight characteristic such as accurate dimensions of goods will evaluate which trailer to use. You must count on the value, weight, and dimensions of your freight to be taken into account when getting a quote. Some types of of trailers are more available than others. What kind of a trailer will you need… a flatbed, step deck, double drop, or removable crookneck? That decision will make a difference in your quote. Will you need tarps, chains, corner protectors or any other type of accessory? Familiarize your with any and all accessories or specialized services. When in doubt ask the shipping professionals and compare. These factors will never waver, but others might.
Fixed Industries
Market fluctuations can occur due to a variety of supply and demand factors including natural disasters, lack of drivers, seasonal demand, other industries' growth or decline, and more. Watch these factors and how they play a role in the ever-changing flatbed shipping industry. Flatbed carriers begin to look at the capacity of other markets to stay afloat. If the oil industry is up then flatbed carriers that haul freight for the oil and gas industry will go about their business just fine. But, if the oil industry is down, these carriers will diversify and start hauling building materials or steel to stay in business. After all, if one market goes up, then rates will increase along with it.
Unpredictable Weather Affects the Short Term
The weather makes for poor driving conditions, especially for truck drivers that must brave the cold, icy, and poor visibility conditions to make sure we have all the goods and services we need. Winter weather conditions combined with the busiest time of the year for shipping can slow down shipping times during the holidays. When weather changes, so does supply and demand. A storm will cause demand in locations that may not have been previously accounted for. Think about hauling salt during a snowy season or hauling relief supplies after a hurricane. Loads are exposed with flatbeds, so shippers must work hand in hand with weather forecasts. During heavy rain or snow, loads have to be protected. Putting that tarp on that whole load adds time and cost. These conditions are short term for the flatbed world, but do need to be in your budget.
Staying On Top of the Changes
Flatbed rates may seem unpredictable, but you can work with them. Knowing your operating costs in detail is important. Otherwise, you have no idea whether you will make a profit. Determine your fixed costs. These are costs that stay the same regardless of how many miles you drive. Examples are truck payments, insurance, permits, and so on. Weekly reports can help you understand the reasoning behind the quote you have received. Favorable shipping hours, no touch freight and providing lead time are all crucial elements to creating more attractive pricing in the market.
Remember to watch all industries , not just your own. They may affect your business as well.
Contact Us (859) 824-4177 for more information or to get a quote!
—
About American Lighthouse Transportation
American Lighthouse Transportation has been serving shippers with honesty and integrity throughout the United States, since 1998. You can depend on our experienced and knowledgeable management team, drivers, and support for all your shipping needs. We communicate effectively to make sure your shipment arrives safely, accurately, and on-time! You can count on us for personalized customer service, expert guidance, accurate anticipation of potential setbacks, and possible workarounds and solutions.
>> Learn More