With respect to oversized and overweight loads on public highways, the rules and requirements are largely the responsibility of each state, and therefore, may vary, sometimes significantly from one state to another. Typically, a vehicle carrying an over-dimensional load must be accompanied by one or more pilot cars if the load is more than 12 feet wide; and/or 14 1/2 feet high, and/or exceeds 90 to 100 ft in length. In many states, if the width is 14 feet or wider, two pilot cars are required, one leading and one following. Note, these are common over-dimensions and state requirements. Each state may have additional requirements. Operators of over-dimension/overweight loads are cautioned to review the requirements of each state in which they intend to operate.
Requirements For The Pilot Car Of An Oversized Load
The P/EVO Pilot (Escort Vehicle Operator) must be at least 18 years old—21 in some states. The pilot car must have two amber lights mounted on the roof that strobe and rotate. The car also needs a load banner on the front bumper or roof and a height pole to protect against overheads and low bridges. The drivers of the pilot car and the truckload driver should have two-way communication devices so the load driver and pilot car driver can communicate.
Pilot Car Rates
If you need a pilot car, you can expect to pay a higher rate per mile for your freight. The actual cost depends on the size of the shipment, the length of the haul, and the demand and supply in the destination and origin locations. The weather and the lead time also are a factor. You can easily expect to pay an additional $2 per mile if you require an escort service.  A good transportation service can give you a precise estimate.
Pilot cars are essential for the safety of your truck driver, their cargo, and the other drivers on the road while transporting larger-than-normal materials like boats or large pieces of machinery. When you need a pilot driver, consult an expert to discuss your requirements and let them help you.
Contact Us (859) 824-4177 for more information or to get a quote!
—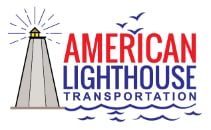 About American Lighthouse Transportation
American Lighthouse Transportation has been serving shippers with honesty and integrity throughout the United States, since 1998. You can depend on our experienced and knowledgeable management team, drivers, and support for all your shipping needs. We communicate effectively to make sure your shipment arrives safely, accurately, and on-time! You can count on us for personalized customer service, expert guidance, accurate anticipation of potential setbacks, and possible workarounds and solutions.
>> Learn More