When it comes to selecting a trailer to haul heavy equipment, you have more than a few options to consider. And when your trailers are carrying a variety of machines to and from the job site, it only gets more complex. the right heavy tractor-trailer plays a big role in simplifying your equipment between job sites. Knowing the advantages, disadvantages, and differences of each trailer type matters when deciding on the best fit for your hauling situation. This list will explore the best trailers for completing your construction projects.
Lowboy Trailers
A lowboy is a semi-trailer with two drops in deck height: one right after the gooseneck and one right before the wheels. This allows the deck to be extremely low compared with other trailers. It offers the ability to carry legal loads up to 12 feet tall, which other trailers cannot. The lowboy trailers can carry up to 150,000 pounds and stretch up to 65 feet with more than 20 axles. The lowboy trailer is designed to service oversized construction equipment and the trailer's ability to drop down allows it to move under bridges, streetlights, and power lines. It is the perfect transport for hauling excavators, loaders, dozers, compactors, skid steers, wheel loader backhoes, and rough terrain cranes.
Flatbed Trailers
A flatbed truck is a type of truck that can be either articulated or rigid. As the name suggests, its bodywork is just an entirely flat, level 'bed' with no sides or roof. The flatbed trailer is very versatile, making them a common asset for carriers. It is mainly used for transporting heavy, oversized, wide, and indelicate goods such as machinery, building supplies, or equipment. The flatly shaped body makes it much easier to load and unload goods. The flatbed trailer can haul material up to 48,000 pounds and is 48 to 53 feet long. The best equipment for flatbed trailers is lumber, scaffolding, concrete, bricks, steel beams, and rods. The level surface makes it easy to onload and offload cargo.
Walking Floor Trailer
Walking floor trailers are built with a moving-floor system that takes the struggle out of unloading heavy materials. The floor of the trailer is safely controlled via hydraulics. That means that the driver can supervise the unloading process from a safe distance without strain or hazards. Walking-floor trailers differ from traditional articulated tipper trucks by using an in-built moving floor to 'walk' the product out of the trailer to discharge their payloads. The walking trailer is an essential vehicle for unloading agricultural, waste, or recyclable materials. They also are ideal for carrying packaged goods, scrap, biomass, sawdust, mulch, and chips. They are not good for fragile loads.
We hope this guide can make a difference in your understanding of the different types of trailers you need for hauling your construction equipment. Once you have a good understanding of your needs, reach out to your dealer representatives to help you find the right trailer for your situation. Like any other equipment investment, trailers need to deliver on every level.
Contact Us (859) 824-4177 for more information or to get a quote!
—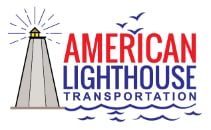 About American Lighthouse Transportation
American Lighthouse Transportation has been serving shippers with honesty and integrity throughout the United States, since 1998. You can depend on our experienced and knowledgeable management team, drivers, and support for all your shipping needs. We communicate effectively to make sure your shipment arrives safely, accurately, and on-time! You can count on us for personalized customer service, expert guidance, accurate anticipation of potential setbacks, and possible workarounds and solutions.
>> Learn More