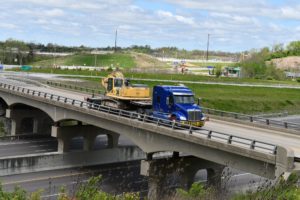 A heavy hauler is a very large transporter for moving oversize loads too large for road travel without an escort and special permit. A heavy hauler typically consists of a heavy tractor unit and a multi-axle lowboy flatbed trailer. If you have heavy equipment to transport a heavy hauler removes the hassle factor for you. Work with a heavy-haul transport firm to save you aggravation, effort, and money. There's only so much a flatbed trailer can do. At times, it just can't get the job done as a result of the shipment being too tall, wide, or heavy. This is where heavy haul trucking comes into play. These tractors, forklifts, backhoes, and more are big purchases, and you want to be sure they arrive safely to their destination.
Appropriate Trucks, Trailers, and Equipment Is Required For Heavy Hauling
Transportation companies who specialize in heavy hauling will have the right equipment to move your oversize and overweight loads. Heavy haulers will have the ramps, tarps, chains, and other equipment for a successful move.
Knowledge and Experience With Oversize and Overweight Loads is a MUST
You need a transportation company who knows the heavy hauling business because experience and safety counts in heavy hauling transport logistics. A experienced heavy hauling transportation company will handle everything from loading, securing, transport, and delivery. A heavy hauler will obtains all permits and paperwork for transport. Heavy haulers are highly skilled truck drivers using the right equipment and meticulous planning that will ensure that your oversize loads will move safely and efficiently to its destination.
Example of Heavy Hauling by American Lighthouse Transportation
When construction business owners need overweight and oversize equipment moved, they call American Light House Transportation. We seamlessly arrange the shipping oversize loads and match the right equipment for the job. We plot the best path, figure your costs, and schedule your delivery. The following pictures are of American Lighthouse Transportation loading a 62,000 pound Excavator, that was oversize and overweight to Williamstown, Kentucky.
Contact Us (859) 824-4177 for more information or to get a quote!
—
About American Lighthouse Transportation
American Lighthouse Transportation has been serving shippers with honesty and integrity throughout the United States, since 1998. You can depend on our experienced and knowledgeable management team, drivers, and support for all your shipping needs. We communicate effectively to make sure your shipment arrives safely, accurately, and on-time! You can count on us for personalized customer service, expert guidance, accurate anticipation of potential setbacks, and possible workarounds and solutions.
>> Learn More