A police escort's primary role is to ensure all involved in heavy equipment transportation are 100-percent safe. As part of these inspections, police escorts are required to check the legitimacy of pilot car driver qualifications and that their escort vehicles are outfitted with the correct equipment. The requirement for a police escort varies from state to state.  The height, width, length, and weight restriction may apply. Permits obtained by the Department of Transportation will specify when police vehicles are required. The permit will identify if non-conforming oversized trailers and equipment are to travel with a certain number of pilot vehicles.  For example, in the state of KY, a single front escort is required for vehicles over 10'6″ in width or 75′ in length on two-lane roads. A single rear escort must accompany vehicles over 12′ in width on four-lane roads. One front and one rear escort must travel with vehicles over 12′ in width on two-lane roads.
The Police Escorts' Role
Pilot cars are allowed to stop traffic and facilitate the movement of an oversized load through congested areas and other situations that would cause a danger to the public. Police escorts are required to check the legitimacy of pilot car driver qualification and that their escort vehicles are outfitted with the correct equipment. The pilot car is typically checked to ensure it has all the required emergency equipment.
The safety equipment is:
safety clothing
warning lights
traffic control signs
spare tires
flares
flashlights
The patrol drivers may check qualifications and licenses electronically and in person. The routes will be reviewed and assessed beforehand to confirm that the equipment and its convoy are safe to travel along the intended route.
What The Police Escort Will Expect From Your Company Before The Transport Begins
Police escort means a uniformed police officer(s) with a police vehicle(s) is assigned to escort an over-limit load(s), control traffic, and protect public safety. A police escort must have jurisdiction over the entire route to be traveled. That is, a move within one county may use an escort from the county sheriff's office. A move across county lines must use a state police escort. Some of the things they will do include asking to see the over-dimensional travel permit and verifying if the cargo matches what is stated on the permit. They will review the route and determine if more law enforcement cars are required. They will check with the power and utility companies, and even provide a contingency plan if stopping is required or emergencies arise. To best get ready for your law enforcement escorts, make sure all the paperwork, including the permit, route plan, and schedule are readily available before the transport date. The police escort will also inspect the vehicle, meet the driver, and check licenses.
Following the load movement, a debriefing meeting should be held and the appropriate parties (operator of oversize load, pilot/escort vehicle driver, law enforcement) should complete the "After Action Report."
Contact Us (859) 824-4177 for more information or to get a quote!
—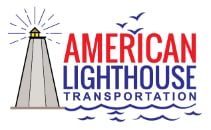 About American Lighthouse Transportation
American Lighthouse Transportation has been serving shippers with honesty and integrity throughout the United States, since 1998. You can depend on our experienced and knowledgeable management team, drivers, and support for all your shipping needs. We communicate effectively to make sure your shipment arrives safely, accurately, and on-time! You can count on us for personalized customer service, expert guidance, accurate anticipation of potential setbacks, and possible workarounds and solutions.